Happy .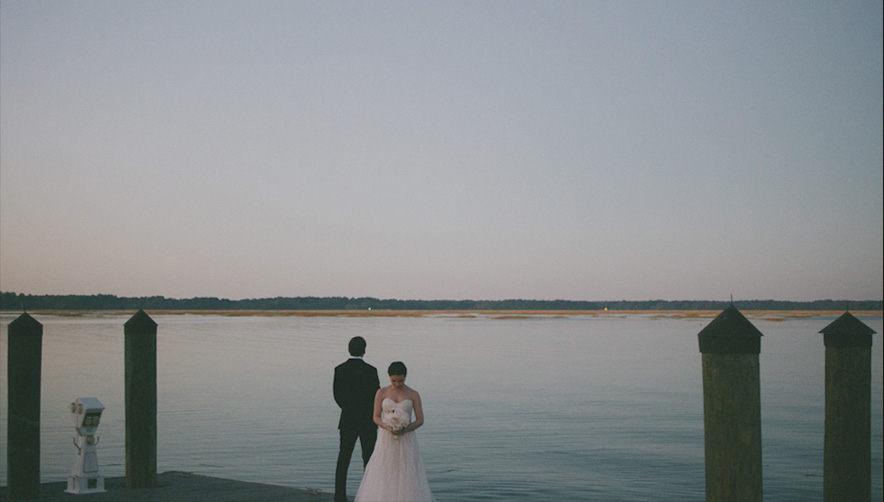 Weddings Schmeddings
It's about the people not the stuff
EVERYTHING YOU NEED TO KNOW IN

14.2 SECONDS
We're nice, we're not too bossy, and we stay out of your way. We like to think our pictures aren't half bad, either. We believe in people, and we believe in weddings. Not weddings as fussy things, like checklists and timelines. Not weddings as fashion shows. But weddings as human events. Of love, life, laughter, and all that goodness you find packed into a day about a guy, a girl, and everyone they love. We'll be there for that, and we won't miss a beat.
21

REASONS WE'RE AWESOME TO WORK WITH
Love is felt, not seen. We get that
You'll never truly capture love in a photograph. It's all surface and veneer - evidence of our existence, not more. But if you hit it right, it's enough. It's enough to remind us of the people we were, the people we'll always be. It's enough to connect us, move us, and take us back in time.
Focusing on the right stuff
We have a simple formula: Have fun. Help others. Be honest. What else matters?
reasons of
Letting people live
People are pretty awesome on their own. So when we're not taking portraits, we're staying out of your way. We won't be manufacturing your moments. We think it's about putting ourselves in the right place at the right time. We believe in living, breathing pictures, and that requires living, breathing people. So we don't tell you what to do and how to act. We're not holding you captive. Enjoy your wedding day. Be yourself. We'll worry about the pictures.
We see beyond price
High end. Low end. These are meaningless. Your wedding is as good as you feel about it.
Enjoy being yourself
If you like silly things, do silly things. If you like serious things, do serious things. The problem with portraits comes in when you have serious people doing silly things and silly people doing serious things. It just looks fabricated. Be yourself. Trust us. We'll get you relaxed, we'll have a good time, and the rest will take care of itself.
Our style
Them: Timeless, Editorial, Lifestyle, Vintage, Photojournalistic, Fine Art

Us: Honest, Human
Getting back to the basics
We are not:
Luxury, Couture, Chic, Lavish, Extravagant

We are:
Stories, Emotions, Connections, History
You are not your shoes
We like decor. We like design. We think people come up with some pretty cool stuff. So, yeah, we'll cover that. But no shoe shot, ring shot, mason jar, or flower will ever compare to the two of you. The details that turn us on are the curve of a smile or the tilt of a head. Things that show how we express the people we are.
We've seen it before
Half a thousand dollars and half a million. 10 guests and 1,000. We've been there.
We have something to prove
We think the industry can be better. We think pictures can be better. We're only seeing the tip of the iceberg. We're stepping up our game, so we can prove it to you.
We're not afraid
We'll try different things, look for new ways to see, and be present for you. The best part of having ten years of wedding experience is we can let go and have our instincts guide us. Otherwise, we're just copying.
We care
Weddings aren't just any story. They're us at our most exposed. We respect that.
We love New York
We're proudly Brooklyn-based, and we love New York's energy and pulse. It's raw, impassioned, and relentless. A city where we are all connected. What better place for a wedding?
We're always around
Email us, tweet us, message us, Skype us, or call us. We're around. No one week wait to hear from us. We're here for you from the start of the process to the very end, and every stage in between. There's nothing easy about planning a wedding. Go ahead. Lean on us.
No one-year wait
Get your images in 5 weeks. Get your album in 3 months. Your album shouldn't be an anniversary gift.
We want you jumping for joy
We don't spend time submitting to magazines and blogs. We spend time taking pictures, thinking about pictures, and working with couples. We rely on ecstatic clients to spread the word, so you can bet you matter more than anything else.
Our videos tell stories
The purpose of the video is to capture the moments between the moments. To reveal the hidden story and the unique pulse and rhythm of each couple. Our videos tell this story.
We work together
Our photography team, our video team – we hang out, we work together, we play together. It's not a competition for my shot vs. your shot. It's our imagery. No turf wars or conflicts here.
It's all in-house
Not just the photography, but the picture processing. Not just the filming, but the editing. Every part of the process is controlled in-house. Album design? Yep. Not just a designer, but an dedicated creative director. We take care of it all, from top to bottom.
We're married too
We've been there. We get it. We know what it's like to be in the middle of it, and what it all means. We'll know when to step in, when to step back, when you need space, and when you need help.
21 reasons sounds better than 20
OK, that's not really a reason. But it's true.
SERVICES
coverage for PHOTOGRAPHY
You have better things to do than worry about photography. Whether your wedding is in the City or 1,000 miles away, let us handle it for you. We're hardcore storytellers, and we're all about getting the job done right. Fully-customized, fully-curated, entirely captured. Our custom packages are created from the ground up. Dream it, and we'll make it happen.
AlbumsEvery picture deserves a good home. Don't leave them alone on a cold, barren hard drive. Our albums are the perfect complement to your images. Crafted from the ground up and painstakingly designed, each album is created here in Brooklyn with the same care we give to taking your images.
coverage for VIDEO
Ever watch 6 movies in a row? A season of Breaking Bad in one sitting? We do. We're obsessed with filmmaking and its power. Clean shots, no-gimmicks, and strong editing tell the entire story behind the day. Our wedding films reveal instead of conceal. They're about taking you right back into the middle of it. You'll want to watch them 6 times in a row.
The Foundation Start with our signature recap, a 20-30 minute film designed to convey the essence of the wedding. Along with that, you'll receive your ceremony uncut, and any toasts given at the reception. Stir, mix, then let rest.
The Extras Looking for more? Add a highlight video, raw footage, a second videographer. Get in touch, and see what we can do. We've got you covered.
VISIT BROOKLYN. SEE THE SIGHTS.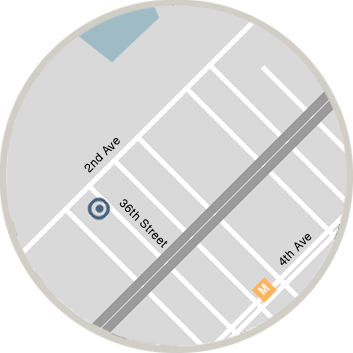 MAP IT!
Getting here is easy!
From Manhattan: Take



towards Brooklyn

Exit at 36 St

Exit right from the station and walk to 36th street. Head right on 36th, and go 2 blocks down (under the overpass). You'll see building 220, and we're on the fifth floor in B-513.
Contact Us:
5 West Studios
220 36th St. Unit 3
Brooklyn, NY 11232
Give us a call. Stop on by. Let's grab a drink. We love making new friends. Industry City is based in the historic Bush Terminal alongside the Brooklyn waterfront. Today, it serves a vibrant community of creatives and entrepreneurs.
Our Favorite Places to go: