Monthly Archives:
September 2012
The Final Cut is a series describing my personal view of the wedding accompanied by a selection of images to reflect that view. Image selections are thematic, and they are not intended to represent the full story of the day.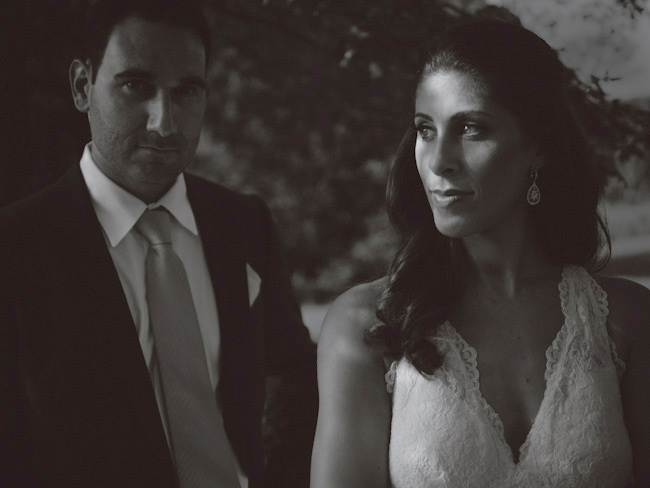 I don't like the wedding industry. I like my peers, but not the industry. Maybe it's just a case of self-loathing. Maybe I've seen too much. But I remember one too many a night with my now-wife, then-fiancee, toiling away on a tight budget, possessed by the constant feeling that everything we were doing was just a little inadequate. Between the email reminders, checklists, and two months of bickering over things that I can't see in any way being consequential when I look back, it felt like a ride we couldn't get off. The industry creates its own special form of inertia. And for those who navigate it with dexterity and bravado, more power to you. But the industry and I just don't see it the same. If I had any mission at all, it is is to let people enjoy the power of living untethered and unbound.
What I like are the people. Couples are good. Love is good. Relationships are awesome. The idea that in the comfort of one singular other we can find so much of ourselves and grow so much beyond ourselves – how could you not like that? Ritual is cool, too. Any excuse to come together as human beings – that's something worth fighting for. Ritual lets us see and feel the weight of our own existence.
If anyone asked, I'd say wedding days are most certainly about rituals, relationships, and people. But there's just so much complexity, too. Especially before the wedding. And it's everywhere. I see it as my couples work their way through the logistics. I see it in the binders and folders and compiled notes. I see it in the marketing, the communications, and the workday. And I wonder. Do we really need it all?
Jana had a lot of questions
We business owners spend a lot of time sizing up potential clients. No surprise there, I'm sure. But the smart ones know the question isn't whether this is someone you want to work with. It's whether this is someone you can work with. Will you be able to do your best with them? Or are you taking the job for the money? It's tempting to think you can do it all – get the business, service your client, stay true to yourself. But in reality, something always gives. There are simply some people you're meant for. And you need to find them.
So I meet Jana, and there are two things I knew pretty much right off the bat. She was nice. And she had lots of questions. Which is fine. Some people do, some people don't. I tell people my job as a photographer is to observe. And that's true. But the other part of my job is to answer questions. The people with a lot of questions when you meet are either a blessing or a curse. Either they really care. Or they're really skeptical. You have to figure out which it is. I put my bet on the former for Jana.
Aaron had a grin
I have one specific image of Aaron before his wedding. I saw him at Alison and Oren's wedding – they were the couple who introduced me to Jana. And what sticks in my head was him dancing. With a leg injury. And crutches. I didn't know it at the time, but that was Aaron.
Now, there are two things that will derail a portrait session faster than you can say "Pretend like you like each other." The first is the wedding schedule itself. Most wedding days run late. Like way late. As in half an hour behind is on time, and an hour behind is typical. No one believes me when I say this. Fortunately, it wasn't the case here.
The second is the groom. Grooms are great for the party part of things. They can dance. They can drink. But the portraits? That's a crap shoot. Most of the girls are on board, but grooms are like a box of chocolates. You never know what you're going to get. Some ham it up. Some are allergic to the posing. And some just can't get into it. Which I get, because I don't like to be in pictures either.
But when you're the person behind the lens, you kind of think to yourself "Just suck it up!" Contrary to popular belief, a well-crafted portrait is not great because it hides what's wrong with us. If you do it right, it's great, because it unabashedly embraces who we are. Portraits are a reflection of our strengths, and I figure most people are only going to have one or two or three professional ones their whole lives. So it's worth going for. Easy to say. Hard to do.
Enter Aaron. With a look of gravitas, but a grin of mischief, I wasn't quite sure how seriously he was taking the whole endeavor. Even now, I'm not sure. But what hindsight reveals that wasn't clear on the day, was it really didn't matter. He was as he was. And it worked out great. I was thrilled when I saw the results.
It all started in their first meeting. I was hoping he'd play it seriously, but that wasn't him. You can see it in the pictures. His head arched up in the air as a grin subsided. The exaggerated body movement. It couldn't have been more perfect, though, because the last shot in the sequence is also 100% him. No staging, no requests from me. For all the levity, in that final moment, in that simple, solemn hug, as he cradles her body and holds her hand, I got it. Sometimes, you have to give people the space to be themselves. The first meeting may or may not have been a big deal to him. I'll never know. But his relationship with Jana was. And that I do know.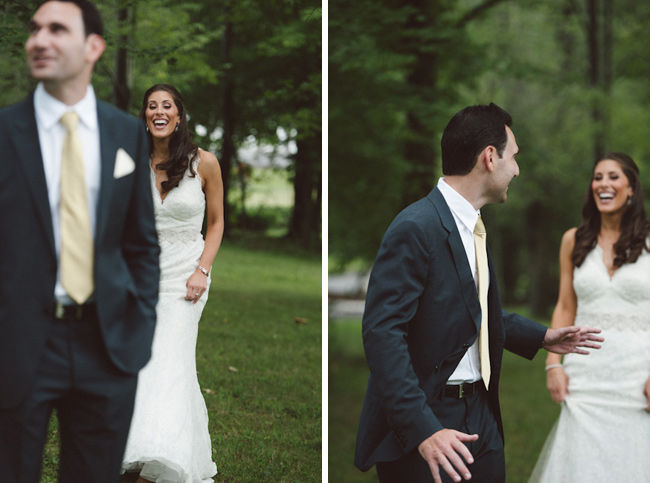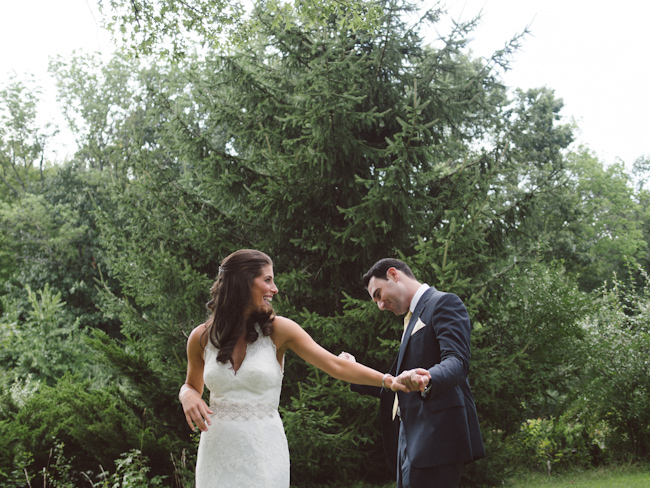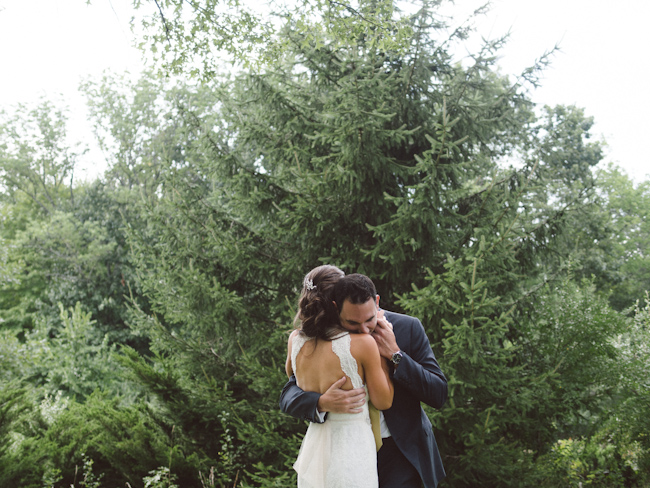 Getting back to Jana
I didn't have a lot of time at the hotel. Just enough to snap a few group shots and a few minutes of make-up being retouched. The moment that sticks in my mind is the one you see below. I entered the room a full house – bustling and busy – and watched it go from jam-packed and full-steam-ahead to dead calm. I could hear the silence. And I could feel it in Jana's face, aglow in that still, emptiness. This is what getting ready is. The tenuous balance between everything unrealized and everything in motion.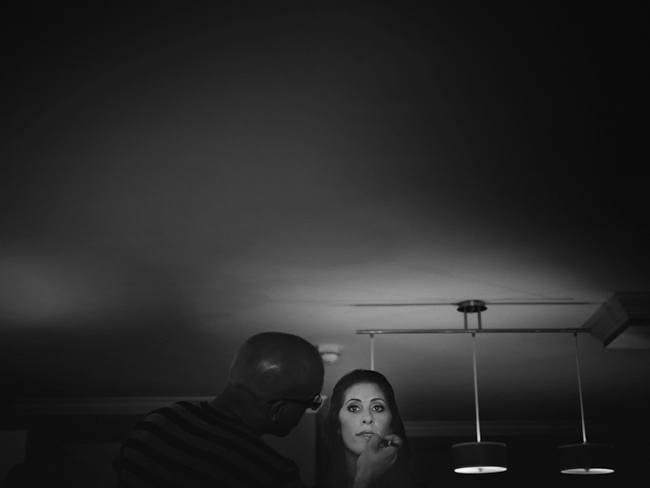 So Jana had a lot of questions. And I did my best to help out where I could. She was planning the wedding all the way out from California, and as a person who planned his wedding in California while living in New York, I can tell you it's hard. But here's the thing about weddings. You never really know how it will all play out. You get a sense of things. You get better and better at getting it. But you really just never know. You're only seeing the tip of the iceberg when you meet a couple. For all the questions, you might think she would be worried or busy or down to business on the wedding day. It's hard to let it all go. But you'd be wrong. Jana was completely present the whole day through. She didn't so much glow as radiate.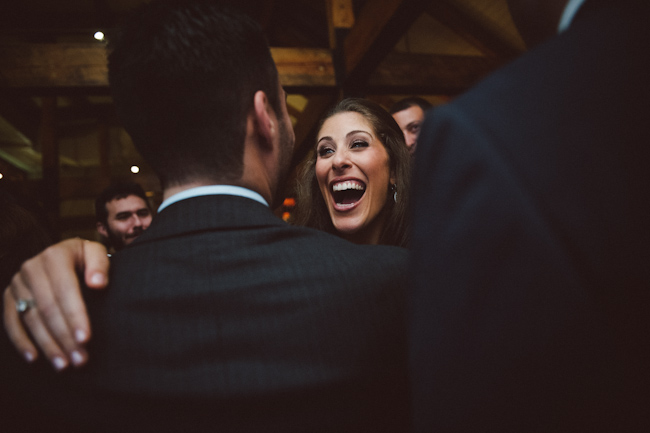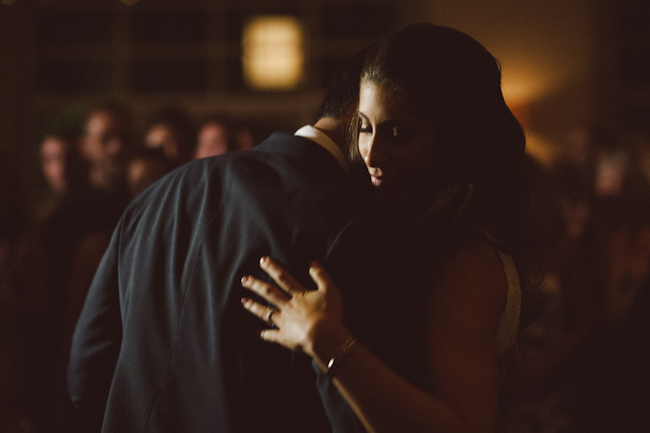 The Definitive Moment
Jana asked me what I thought about the wedding. I rarely have a good answer when people ask me at the end of the day. At that point, you're going all on intuition and instinct. It takes me some time after I get home to look at the pictures, process it, and put all of the pieces of the puzzle together. But that day, I had an easy answer. I said I'd never seen a groom quite like Aaron. I don't think she fully believed me. "I bet you say that to everyone."
But Aaron really was energy unbound. The definitive moment came right at the end. I had packed my gear, and I was right at the door, when I glanced back. There he was, hoisted in the air. And that was the answer I had been looking for. This was a wedding about breaking orbit. Going beyond the weight of the planning, the structure, the logistics, and the work. There were no more questions. It was about that crazy, feverish grin. Following your heart. The moments of quiet. The smiles. It was about going beyond every bit of expectation the industry builds, beyond the things a photographer would ask of you, and being free. To be exhilarated. To let go. To be lifted on the shoulders of friends and family and soar over the crowd with the space above to fly, seek, and find. And if that's not a wedding, I don't know what is.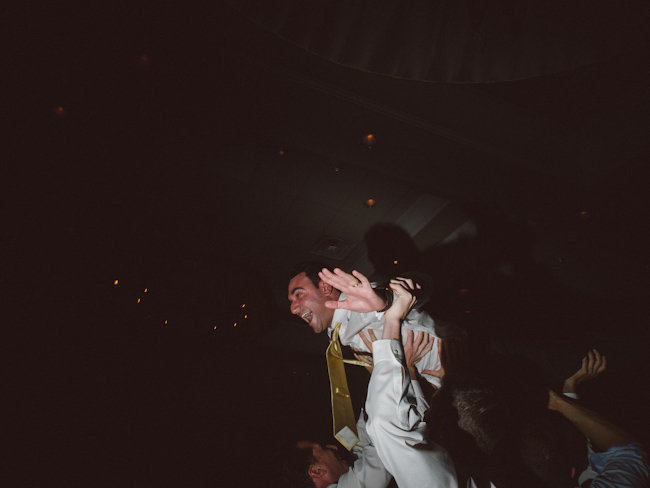 The Final Cut is a series describing my personal view of the wedding accompanied by a selection of images to reflect that view. Image selections are thematic, and they are not intended to represent the full story of the day.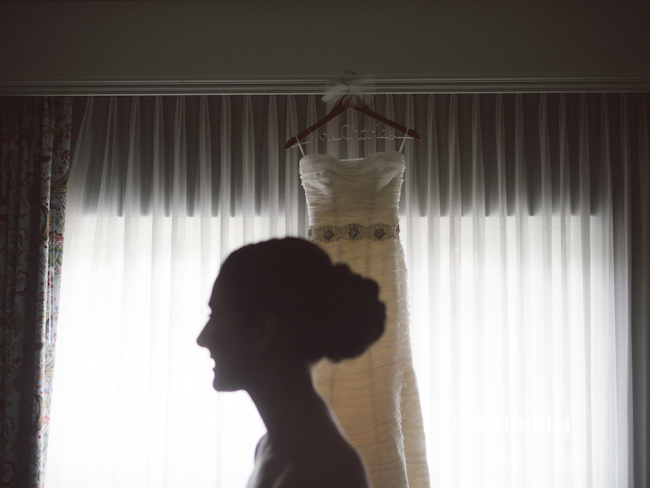 A wedding is a bubbling cauldron of subtext. A tapestry of interwoven thoughts, feelings, and relationships sitting right beneath the surface of what we do and how we act, but always just beyond the grasp of our eyes. It is spoken in a language only our hearts can feel and our minds can see, as we stitch together the fragments reality lets us in on. Everything is suggestion. Nothing an answer.
And this is the hardest part of for the photographer. A photographer sees light and form and composition and exposure. A photographer sees brightness, darkness, space, and figure. In a day running at a hundred and fifty miles an hour, this on its own is hard. But it's not the real challenge. The real challenge is freeing your heart so you can fill it with what's in front of you. It's clearing your mind to perceive what is really there.
The first time you capture a wedding the challenge is technical. It truly is a matter of exposure and timing and using your camera the way it needs to be used. But this is only the beginning. And as it subsides, the truer challenge becomes apparent. After a hundred, two hundred, three hundred weddings, how do you keep your vision open and free? At a certain point, you've figured things out. You know what you're supposed to do, what you're supposed to shoot. You know what works. You have all the answers.
But if you have all the answers, why would you ever solve a problem differently? If you know a shot works, why push for more?
This is the real challenge. Everyone is a creature of habit, and at a certain point in a career the pull towards repetition becomes deafeningly loud. But if you believe that subtext is there, if you believe the day is something unique and special and different, then you have to let go of the very answers that define you. You cannot construct the same story each and every time. You cannot frame it the same way or look for the same moments. Commonality creates the cultural bond that underscores the way we connect, but it is individuality that tells us who we are. It is our unique nature that lies at the heart of marriage. We understand great images because of what we have in common, but we love them because they honor our differences.
The space between the dress and the party
The dress is a subject of persistent fascination to me. Not so much for its beauty or form, though some are stunning, but for its symbolism. The wedding dress is a statement of pure potentiality. A belief in something greater and more. An ethereal anticipation that exists in the abstract, as all things do before reality takes hold.
And, yet, the power of the wedding itself comes from its reality. This is one of the great tensions. How do you reconcile a year of anticipation with a day of occurrence? How does a year of hope diffuse itself into 14 short hours of existence?
It's tempting to say in the most perfect of days, the two match wholly, as one becomes the other. But just as often, perfection comes by the way of the unexpected. In the bold acceptance of what happens and the belief that it is even better than what was supposed to be. And, in this sense, weddings are much like relationships. We jump headfirst into the fantasy without thought, logic, or restraint, but at some point, we find it is worth infinitely more for what it is than what it seemed it should be.
More interesting yet is that the reality does not exist independently of the anticipation. For better or worse, the two are always intertwined. Our initial ideas of how something was supposed to be – the excitement, energy, and the raw, unadorned hope – colors our views for the rest of our lives. Sometimes we struggle to reconcile the two in the face of inconsistency. But just as often, it is a source of hope and strength. Powering an underlying nostalgia, it takes that spark of excitement and energy, and converts it into a place of comfort that we can always return to. And, perhaps, this is truly the most beautiful thing of it. In moments under the spell of this power, we can always pick and choose what matters. We can see the world the way we want to.
"No veil. No bouquet. Got it."
Jenn was onto me pretty fast. She put it together right away as she uttered those words. Whenever I think of it, it makes me smile. It's not to say that I never prefer a bouquet or a veil in my portraits, but I suppose more often than not, I like it clean and simple. Don't ask me how I decide. Sometimes it's explicit, but just as often, it is intuition. In the course of a wedding, we assume certain roles. The bride, the groom, the mother of the bride, father of the bride, maid of honor, and so it goes. And it's not that I don't appreciate those roles – everyone is part of a cast of some sort all their life – but when it comes down to it, the significance of who we are before the wedding and, really, in each moment we live, is always more expansive than any role we could ever inhabit. So I like the simplicity of people unencumbered. I believe that wedding photography is about people having a wedding, and not a wedding having people. Giving the body a little more freedom to move and explore suits that notion to me.
It was a nice that she saw this. It was nice that I knew that she knew, and that I wouldn't have to think about the conflict. Because if a wedding is that push and pull between the idealism symbolized in that dress and the reality that unfolds in that day, because if it is that divide between the wrote answer in my head – the go to shot I've done a thousand times before – and the answer that exists uniquely in front of me in each moment I am present, then it is also at its most challenging when both options present themselves, and I have to decide between one or the other. Sometimes, it's either the shot that looks good or the one that feels good. Or, more specifically, the shot I think someone wants, and the shot that I think will matter for them. And this is when I have to make a choice.
This is the quintessential question in the relationship between photography and the modern wedding. Do we want images built on the day we imagined? Or the one built on the day that took place? You can cover one or the other. But not always both.
The image selection
Jenn is astute and kind. Accessible in that fashion that makes it easy to speak your mind. And she made the day easy. What was distinct about this wedding was the grace in which it tread both the common and the novel. The way in which it made its way through the day, effortlessly transitioning from the ideal to the real. There are some weddings that eschew tradition. Some go against the grain, wanting nothing to do with anything bridal. Others embrace it fully, sometimes even going so far as to be statements of design, decor, and everything bridal. Jenn and Andrew preserved the best aspects of each without falling prey to the pitfalls of either.
I selected these six images as a beginning and end to leave the middle to the imagination. A reflection of this transition the couple bridged so effortlessly. There is Jenn holding the dress with the candid reaction of onlookers. There is the elegance of her form in silhouette framed by a dress aglow – the future Mrs. Charles. And there is the transition itself as she puts the dress on. The singular moment that a person moves from what was planned to what is happening. At that point, it is a wedding day.
And then there were the moments at the end. The reception. If the day begins a dream, it ends a party. The strands unravel into a big, wonderful mess of an affair fully free to be its own expression. Uninfluenced by blogs and publications, the party exists as nothing but itself without the weight of expectation. It is all heart. A dance, hands in the air, a full-throated celebration of the wedding day. A father, elegantly imbalanced, baring the full weight of his form to hold onto his girl for one moment more as they finish their dance. And the tenderness of a mother's touch, head arched, hand up.
And in that middle we don't see here? Everything. There was everything. Because it's not just the middle we witness as those present, but it is the middle we witness in our minds. It is the values we attach in our imagination. When I close my eyes and look back, there is one distinct moment. Something beyond the reach of the camera – you can only feel it in real life. It was right after Andrew made his way down the aisle. He turned to his mother, and the two of them came together. It hit hard and fast, not so much a hug, but an embrace. Several people in the front of the room reacted. Because we all knew something in this moment. We all saw the importance of this day. These things that we do in our weddings – these are not only acts of family. They are acts of care. They reflect invisible bonds that bring power to the wedding day. That give love and celebration their weight. That moment told me exactly how much it mattered that he was marrying this girl in front of these people at this time.
And that's really what a wedding is. The space in our hearts between the dress and the dancing. The subtext between what people do and plan and what it all means. It is not the dress. It is not the hugs. It is potential materialized. The energy of hope transferred into the reality of love. And if you're going to ask what it is about a wedding picture that matters, that's just what it is, too. The ability to know that in the distance between something and nothing, we can let go of ourselves to see love, fresh, new, and unencumbered every single weekend. It is simply to realize that no matter how long we do this and how much we see, we don't have all the answers.